… and live a mystical gaming experience
Casinos are not only baccarat, actually slots are probably the most popular games at the casino floor and online, because they are promptly enjoyable by any kind of player, not only professional gamblers and high rollers. Most of them are accompanied by amazing themes that bring you in ancient worlds, fantasy realms, mysterious adventures, sports events and many other incredible places to satisfy anyone's wishes and tastes.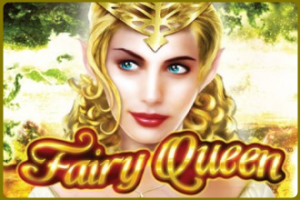 One of the games I like the most because reminds me of the fairy tales my grandma used to tell me when I was a child is the Fairy Queen Slot game, now also available in an upgraded version 2. This is one of the many beautiful slots by Novomatic crew, who love to create magical fantasy worlds where staging their games, inhabited by strange creatures, mystical entities and powerful wizards. You can play Fairy Queen Online slot games at any online casino powered by Netent software.
This game is a 5-reel and 10-payline slot with a background set as dark night forest. As you go inside the forest, you come across a number of symbols and animations of mushrooms, the cheeky elf, the mini red dragon, magical plants and a green arboreal spirit that seems quite friendly.
Playing Fairy Queen Slot
Fairy queen slot is pretty easy to play and much similar to other Novomatic slot games. You can choose up to 10 active pay lines and on each line you can bet a minimum of 1 coin and a maximum of 10 coins. After you have placed your bet, you can click the start button to spin the reels manually.
Game of Gamblers
This is a very volatile game where you could get free spins after every 100 spins or there could be times when free spins show up even after 300 spins. Then the game allows you to win a maximum of 9000x of your bet. This game is perfect for gamblers that want to wager because you can double your win by guessing the colour of the hole card. In case you win the money is doubled and if you lose, you lose your entire bet.
Features of the Game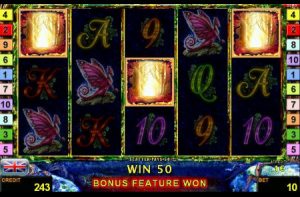 This is a high volatility game that is set on 5 reels with wilds and scatters. The beautiful Fairy Queen is the wild and the mystic light in the wonderful forest is the scatter. The wild can make its own combinations and replace all other icons to make its combinations except the scatter. A player gets a reward of 10 free spins and one free game when three or more scatter symbols appear anywhere in a single spin. Each free game guarantees at least one guaranteed win. Apart from this appearance of a scattered symbol in any place on the screen ensures extra coins for the player which means that these symbols need not be in line for the reward.
Earn Big Money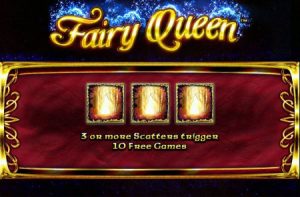 You can really earn big if you apply caution and keep patience. This is the game where you will need to keep your casino balance in place because there would many games without a single win. So keep your balance healthy till you finally reach the free spins where you are guaranteed a win on every single spin. In this game you could win 100x to 900x of your bet.
Interface of the Game
Fairy Queen Slot game is available in many European languages which make it easy for people to study and understand the game.
Conclusion
Fairy Queen is a risky game with stunning graphics and loads of free spins. The player needs to play very hard and cautiously to win as there could be many games without virtually winning anything, so better coming up with a nice bankroll strategy before approaching the game.
by Baccarat Odds Tags: fantasy, free slots, free spins, magics, Novomatic, themed slots, video slots
Posted in Online Slots | No Comments »